All LA RESIDENTS CAN NOW PUT FOOD SCRAPS IN GREEN TRASH BINS
Posted on 01/16/2023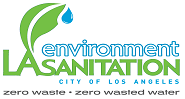 About LA Sanitation and Environment
As the lead agency for the City's environmental programs and initiatives, Sanitation protects public health and the environment through the administration and management of three program areas: Clean Water (Wastewater), Solid Resources (Solid Waste Management) and Watershed Protection (Stormwater). These infrastructure programs collect, treat, dispose and recycle the solid and liquid waste generated by the nation's second largest city of more than four million residents. Through these essential Public Works programs, Sanitation delivers a triple bottom line of economic, environmental and social benefits that sustain quality of life in Los Angeles.

About L.A. City Department of Public Works​
The Department of Public Works is comprised of five bureaus: Contract Administration, Engineering, Sanitation, Street Lighting, and Street Services, as well as the Offices of the Board, including the Offices of Community Beautification, Filming and Petroleum Administration. More than 6,000 employees are responsible for design, construction, renovation and operation of public projects ranging from bridges to wastewater treatment plants and libraries; curbside collection and graffiti removal; and maintenance of streets, sidewalks, sewers, streetlights and street trees.​

The Department is governed by the Board of Public Works (BPW), a five-member full-time executive team that is committed to delivering projects and programs that enhance quality of life, economic growth, public health and the environment to all Angelenos.

For more information, please visit ​ http://bpw.lacity.org.